Unless you've been hiding under a rock and avoiding television altogether, you have probably seen the Procter & Gamble
"Proud Sponsor Of Moms"
campaign that is running with the Olympic coverage. These ads actually started running back around Mother's Day, and I was very hopeful that dads would get their own version of the ad for Father's Day the next month. June came and went, and there was no mention of Olympic dads, except for
a small commercial by Gillette
(a P&G brand) that didn't get nearly the play that the "Moms" ad did (FYI: There was a blog campaign that some of my fellow bloggers participated in that went along with it). So, with the games nearly over, I am not expecting to see any new advertising. As a father, should I be mad at Procter & Gamble for their "Proud Sponsor of Moms" campaign and the way they seemingly ignore the influence of fathers on Olympic athletes?
I love moms!
My answer to the question above is complicated at best. Am I mad that P&G is proud to sponsor moms? Well, no. There are a lot of awesome moms out there. I couldn't do what I do without my wife being an awesome mother. I guess what I'm saying is that I love moms!
A lot of the guys who are ranting about this commercial are also
at-home dads
, and I guess they feel kind of slighted because we see moms doing things in these commercials that we do on a daily basis, and we think, "What about us?". But let's remember guys, the fact that P&G chooses to sponsor moms does not automatically mean that they are anti-dad. In fact, P&G typically leads the way when it comes to gender equality in advertising. Do I have to remind you that brands like Pampers, Tide, and Vicks/Nyquil are brands that we have praised in the past for their dad-featuring efforts?
"Mom" is a global message that everyone can identify with. We like to tout our progressive ideas here in the U.S.A. but the truth is, a lot of the world still lives under what we would call "archaic" stereotypes. For the majority of the world, dad does the bread-winning and mom does the nurturing. So, for a brand like P&G to pick mom for an international branding campaign is not that surprising. (To read the exact quotes from P&G and their ad agency, check out this
article by Lisa Dawson
on the advertising site Adotas)
But I also love dads.
Do I wish that there was a commercial featuring dads? Of course I do. Do I think that dads play an important role in the lives of their children? Absolutely. Do I think that Olympic athletes only love their moms? Of course not. Do I think that moms were the only ones on the sidelines and dropping the kids off at practice? Absolutely not. I believe that some of the most inspirational stories of the games happen between athletes and their fathers. Check some of these out.
Hufington Post recently ran a
slideshow of Olympic athletes hugging their parents
.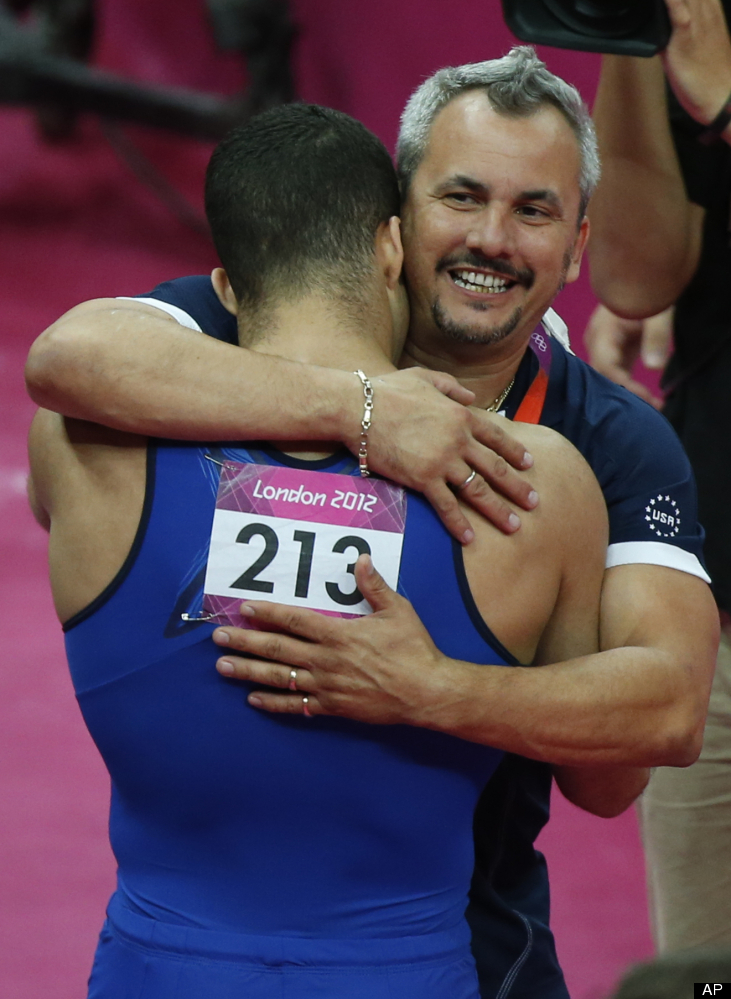 Photo Source: Huffington Post
Here is Apollo Ohno's emotional memory of his father encouraging him to get into speed skating and pushing him to become the best he could be.
And who could forget this moment from 1992 when runner Derek Redmond pulls a hamstring in the middle of a race and his
father
runs out onto the track to help him finish. (
Thanks to @TheJackB for reminding me!
)
So, Should Dads Be Mad At Procter & Gamble?
I don't think "mad" is the word I would use. I think we're disappointed that we were not recognized. But I also don't think we should ever want to be exalted at the expense of moms. I think we should push for equal representation, but if we have to run over mom to get the recognition we're looking for, I think we have missed the point.
The point I think most of us are trying to argue with our soapboxes is that parenting, in the ideal scenario, should be a
partnership
between the adults who created or adopted their child(ren), and ideally, we would like to see commercials reflect that. I don't think that getting mad and telling P&G that we are "pissed off" is a good way to get equal representation. That just reminds me of my kid whining for more cookies when I already put them away. Whining won't get us anywhere.
Moms have been viewed as the nurturing parent around the world for the better part of... well, ever, if we want to be honest. We have more than a few decades of involvement to put under our belts before we can claim equal status. Would it be a crime to ask for a little recognition along the way? Not really. But let's catch our flies with honey, and let's not trample over mom to get the recognition we're looking for. Let mom have her recognition (which we all admit she deserves), and
let's be sure to tell P&G that they sort of owe us a solid on the next campaign
. We want to see fatherhood portrayed in a good light because we believe we are good fathers. Let's not give them any evidence to the contrary by whining about how they proudly support our partners.
What are your thoughts on the P&G campaign? Do you agree with me? Are you a little more ticked off than I am? Why? What were you surprised to hear at the discussion of this topic at last night's #DadChat (transcript here)?